---
Gantry's RBI Baseball Page

Your one-stop shop for all things RBI Baseball. Don't know what RBI Baseball is? Then you better start at square one. Dee-Nee.com aims to be the ultimate source for RBI Baseball on the Internet. It's a site by RBI Baseball fans, for RBI Baseball fans. Even though it's a 17 year-old Nintendo game, the community for RBI Baseball is strong and gaining members every day.
New vistors will particularly find the RBI Baseball FAQ and RBI Baseball Drinking Game to be good starting points. Once you graduate from the main pages, sign up for the forums and share your thoughts with RBI Baseball fans across the globe. RBI Baseball is alive and well on the Internet and we hope to keep the magic alive for as long as humanly possible...
---
June 28, 2013
After three years of nothing happening on this site (except the forums of course) I finally did an update. I've revived the old RBI Baseball Database with the latest and greatest wiki software. The old one was completely overridden with spam and I just shut her down for a couple years. It's now back and better than ever. You can always find it on the left-hand navigation menu under Database/Wiki. Enjoy and feel free to sign up and contribue to the effort...
---
March 8, 2010
Cool java site to play RBI from any browser - check it out.
---
February 17, 2010
Only 13 months since the last update!
I wanted two talk about two new and active sites in the world of RBI, unlike this one. http://www.rbibaseball.us/ is a site started by Tecmoturd of the forums. He has been incredibly active in making new ROMs featuring the hack that allows you to play with 30 teams instead of the original 10. His site features a 2010 ROM with 30 teams and he's led a bunch of us on the forums to create a ROM with all the teams from the 1986/1987 RBI era. It's close to done, check this forum thread for all the updates and breaking news.
The other new site has been started by my buddy Brad, aka TecmoBowlTerror, aka TBT. It is TecmoBowl-vs-RBI.com and focuses on RBI baseball strategy and how to play successfully. It's a great idea and something I really don't talk about much here on Dee-Nee. Brad is an elite Tecmo Bowl player, definitely check out his strategy guides on that game as well.
---
January 20, 2009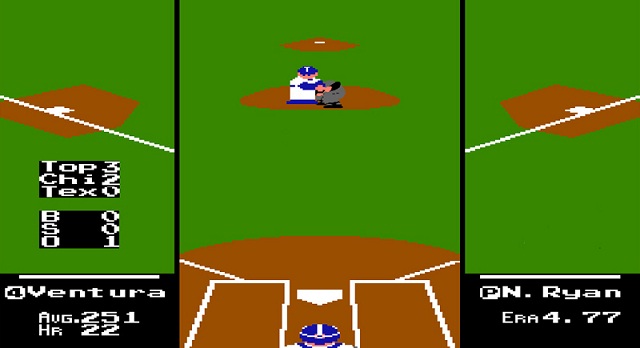 Thanks to forum poster gig for submitting this awesome photo.
---
April 2, 2008
The 2008 RBI Championship of the Universe tourney is on in Chicago, and needs 13 more entrants. Please folks, sign on up and play against the best that the RBI world has to offer. It's been a bi-annual tourney for quite some time now and always brings out the best of the best.
---
October 27, 2007
Still around folks, though needless to say the front page and main site doesn't get much updating. Nightwulf & myself started to work on a new, improved version of the site but we both got a little too busy and it's on hiatus again. Anyways, read this great ESPN Page2 article about Wally Backman, seems like things haven't gone so well since his 4 day stint as D-Backs manager.
---
January 9, 2007
The forums are not playing nicely with the software upgrade nightwulf is installing, but we are working on it. Patience grasshoppers, but don't expect it up for most of the work day today. Our apologies...
---
December 8, 2006
nightwulf here, updating the front page due to Gantry's inherent laziness. Plans for the 2007 National RBI tournament are in full swing. The competition will take place in Columbus, OH on a to-be-announced weekend in June. Full details can be found at the official tournament site, with plenty of discussion available in this forum thread. Start on page 50 or so if you're just tuning in ...
In other RBI news, San Francisco leadoff man Jose Uribe has passed away due to a tragic car accident this morning. Our thoughts go out to his family and wish them the best.
Discuss this update on the Dee-Nee forums
---
October 18, 2006
Welcome home Sperling!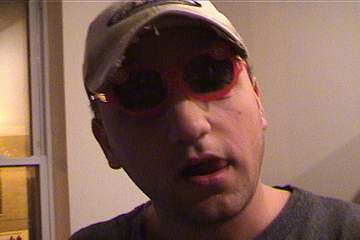 Sperling walked into my life about an hour ago, just showed up at the Dee-Nee house. He's home from Iraq for good, Dee-Nee!!!. We already had Taco Bell, played RBI and had a couple High Lifes... Also just found out that our annual trip to NIU's homecoming will be happening this weekend, all are invited. We've had a two year lull since Sperling's been away, but we're back on. Anyone knows a floor we can crash on Saturday night, just let me know...
---
July 12, 2006
Congrats to Jason aka Racktacular for winning the 2006 RBI Baseball Drinking Game tournament! He played well throughout and beat yours truly in the finals. Both games were 20-19 with a walkoff homer by Jason, truly dramatic. For all the nitty-gritty on the tournament games, check out the forum thread.
---
April 3, 2006
The 2006 MLB season has begun, and Julio Franco is the only RBI'er on a Major League roster. There are plenty of rumors about Clemens coming back, possibly to the Red Sox. Santiago still has a chance to get into baseball. RBI is down, but definitely not out. Hopefully Franco can play until he's 50...
---
April 3, 2006
The 2006 MLB season has begun, and Julio Franco is the only RBI'er on a Major League roster. There are plenty of rumors about Clemens coming back, possibly to the Red Sox. Santiago still has a chance to get into baseball. RBI is down, but definitely not out. Hopefully Franco can play until he's 50...
In exciting online news, clyon has returned to create a whole new set of RBI ROMS for the 2006 season. The site is well done and he's actually topped his 2k3 ROM set. Go to his site right now and download them. You won't be disappointed.
It's been talked about a bunch on the forums, but I neglected a front page update. Kirby Puckett is dead, making him the 2nd RBI'er to pass on (Donnie Moore). With an eerie sense of timing, we started an RBI Dead Pool thread a couple weeks before. This further proves that the entire population of dee-nee are terrible, terrible people...
---
January 10, 2006
First off, happy 44th birthday to RBI Legend Jim Lindeman!
Some healthy activity going on lately, on all three major sites. I've done a few main page updates (see below) as well as updated to the RBI Baseball Database. From now on, most main page updates will have their corresponding database pages updated. Hopefully, all major info from the main site will be available on the database, for anyone to add to and edit. We also had out biggest day ever on the forums, with 1100 posts and over 200,000 combined. Quite the feat, thanks to all dee-nee regulars with the assistance...
Today's RBI Baseball Link of the Day is a nice piece about Fernando Valenzeula, specficially in regards to his still active pitching career. In that article, it also mentions that Kevin Mitchell is a hitting coach for the same Mexican League team. Two RBI'ers south of the border, small world...
Other big news for today was Gary Carter getting hired as Manager of the St. Lucie Mets, replacing previous RBI'er Tim Teufel. Looks like Carter wants to manage a major league team, best of luck to him. His RBI Database Page is also shaping up quite nicely.
Discuss this update on the Dee-Nee Forums
---
December 28, 2005
I'm still alive folks, just lazy. Still getting 10,000 posts a month on the forums, so use that for your daily RBI fix.
Two quick updates, a Hall of Shame entry for Jeff Reardon's recent recent problems with the law. To boot, a couple new entries for Jim Rice and Cal Ripken. I also added a new user-created RBI rule to the appropriate entry on the RBI Baseball FAQ. Happy holidays all!
Discuss this update on the Dee-Nee Forums
---
August 23, 2005
Today's RBI Baseball Link of the Day is an online poll for the All-time Greatest Sports Video Game. Right now RBI is in the second round and fighting an uphill battle against NHL 94. We need your votes people, please vote now!
Rumors abound that Clemens may be juicing, but don't believe the hype until there is official proof. As we all know, an RBI'er has never been caught using drugs...
---
August 8, 2005
Sad news in the world of RBI - Gene Mauch, manager of RBI's 1986 California Angels, passed away at age 79. Today's RBI Baseball Link of the Day is an ESPN Classic article on Gene's death. I also took a few minutes and made a quick Mauch page on the RBIdb. Rest in peace...
Also added a bunch of 2nd generation RBI'ers, including the kids of Robbie Thompson, Kevin Bass, Tony Gwynn and Tommy Herr. RBI lives on in the youth of those who came before....
---
August 3, 2005
Today's RBI Baseball Link of the day is a literary piece. St. Louis bench player John "Blank" Morris wrote a book on his experiences in baseball called Bullet Bob Comes to Louisville : And Other Tales from a Baseball Life. It includes 22 short stories, a forward by RBI's own Willie McGee and generally favorable reviews. It should be an essential addition to any RBI collection...
And while you have Blank on the brain, be sure an check out his impressive RBIdb page. Thanks to ShitPaw for the link, db page and idea for putting this up. While you are in the area, peruse the St. Louis page for stats, strategy and lineup tips.
Discuss this update on the Dee-Nee Forums
---
August 2, 2005
First things first, congrats to Wade Boggs and Ryne Sandberg for officially getting inducted to the Baseball Hall of Fame! Two more RBI'ers make the list and we're hoping one or two can sneak in next year. Blyleven absolutely deserves to be in there, and Dawson and Rice are darn close.
Lets see how long I stick to this, today's RBI Baseball Link of the Day is a nice Q & A session with Don Robinson. I learned a ton about Robinson from the interview, so much so that I created his RBI Database Entry. It's chock full of goodies, so check out both links...
Thanks to many wonderful members of the forums, specifically ShitPaw, I have done a ton of additions and corrections to the where are they now page. We've even begun two new categories, team owners and still playing, sort of. The latter section still needs major updating (including folks like Fernando) so check back for more updates. But the WATN is as current as its been in years.
Oh yeah, I'm even older now, not quite sure how that happened. Dah-Nah to aging...
Discuss this update on the Dee-Nee Forums
---
July 6, 2005
First off, congrats to Mike Riley who won the 16-man National RBI Tournament in Columbus last weekend. It's the second straight national title for Riley, cementing his place among the all-time greats. I was in Columbus (along with numerous members of the forums) and it was a fantastic time. My liver is still in recovery, but it was worth it. Congrats to JoeDirt for taking second and running a heck of a tournament. There were folks from CA, AZ, IA, IL, OH, PA, TX and MD in the tourney, truly a national affair. Malnuboy from the forums took a ton of pictures, and I'll get those up shortly.
In some very disturbing news, the Houston Astros have demoted John Franco for reassignment, meaning he's off their 40-man roster. We'll know more in a few days, but it could be the end of his career. With Santiago in the minors, there are only two RBI'ers on active rosters (Roger Clemens and Julio Franco). Lets hope John gets another shot soon, because at 44 he is running out of chances. On a more positive note, Kirk Gibson has been named hitting coach for the Detroit Tigers. The WATN has been updated...
Looks like the Sports Guy took notice and linked to dee-nee. In no small coincidence, the site traffic jumped 11x yesterday. Definitely our best outside link so far, looks like we're gonna make it after all...
Discuss this update on the Dee-Nee Forums
---
June 17, 2005
We've got a wiki started up - The RBI Baseball Database. The plan is to fill the wiki with all things RBI and forums - players, teams, terms, strategy, silly forum stuff, etc. We are off to a decent start, sign up and start editing. Anyone can work on it. At the very least, I'd like to get all the players and all the info on this site on there. A wiki is much easier to deal with and we aren't relying on my lazy ass to do updates. So get crackin' folks...
Lipitz did in fact get married, congrats to him. We all had a blast and even played RBI at the wedding! When we get pictures, I'll put them up on the site...

---
May 27, 2005
To quote the Muppets
Somebody's Getting Married Today...
Everybody's favorite co-webmaster is about to tie the knot. Lips will be swapping vows with Skups (aka Jen) this Sunday in Cleveland, OH. The dee-nee crew begins their excursion tomorrow morning - Sperling, Vit and I will be leaving Chicago just in time for the Indians game at 7:05pm. Saturday involves Potsie, golf, the Rock n' Roll Hall of Fame and the Rehersal Dinner (read free booze). Sunday pm is the oh-so-short ceremony (under 30 mins) and the grand finale - Lipitz's wedding reception. Let me repeat that, Lipitz's wedding reception. Copious amounts of booze will be consumed and we should have plenty of pics? and hopefully videos. Should be quite the weekend, I am getting pumped. Only cost me a mohawk and a beard, but I plan to drink my weight in booze and have a rockin' good time...
---
May 3, 2005
The remaining two spots have been finalized for our yearly RBI Baseball Tournament, congrats to Jason and Sperling for making the grade. A special Dah-Nah goes out to Lips, who goes from champion to non-qualifier in two years. Though a disgrace in most of our eyes right now, we all know that he'll bounce back and be hitting center-field homers in no time. You can read the impressively verbose results on this forum thread.
In our continuing quest to get every RBI'er an entry into the RBI Baseball Hall of Shame, we've got first-time entires for Dwight Evans, Reggie Jackson, Chet Lemon, Calvin Schraldi, Wally Joyner and Mike Schmidt. In addition, I've have added new entries for Lenny Dykstra, Glenn Davis, George Brett, Tom Brookens, Alan Trammell, Bob Ojeda, Jeffrey Leonard and Charlie Kerfeld. Not only that, but there's a bunch more on the forums that I haven't gotten to. Yes, I'm too lazy to link all those names this time, you know where to find them...
Some other quickies - a WATN update for Danny Heep, a quality new pic for the RBI Baseball Drinking Game (thanks to BeeJay!) and a few mentions of RBI in the press, all added to the new Articles section of the RBI Links page. Wow, it's been seven and a half years since we came up with the drinking game...
---
April 23, 2005
Though a day late (not even since I'm updating at 4:30am), happy birthday to Lips who turns 28. Screw Earth Day, Aprill 22nd will always be Lipitz Day. Congrats buddy...
The big four are still ticking away thankfully, no more losses on the RBI front. Benito is on the DL with a virus of some sort, but Franco, Franco and Clemens are all playing and playing well. Keep it up boys...
A few new entries for the RBI Baseball Hall of Shame - Brian Downing, Chili Davis, Rick Reuschel and Mark McGwire. By my count, this gives us entries for exactly half the players in RBI Baseball. Eighty down, eighty to go - if you have any other embarrasing RBI moments, email me or post on the forum HOS thread. We'll get them all eventually, no RBI'er is safe...
There is a new online RBI league shaping up, with plenty of dedication and support - Purple Cobras Online RBI League. They are still looking for members for their May 2005 campaign, so go to the site and sign up! Page has also been added to the brand new "Newest Sites" section of the RBI Links Page.
Added a few entries to the RBI Roms Page - a couple variations of the RBI Arcade ROM (thanks nightwulf) and the RBI Anti-Heroes ROM. Ever wanted to bat nine times with Spike Owen or Rafael Santana? Now's your chance...
Two new music reviews - Concrete Blonde's Bloodletting and The Style Council's My Ever Changing Moods. I also divided the reviews page into separate music and book pages, as it was getting too lenghty.
Discuss this update on the Dee-Nee Forums
---
April 2, 2005
And then there were four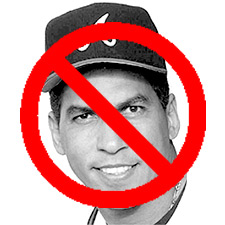 It's a sad day in the RBI Universe as Andres Galarraga calls it a Major League career. This leaves us with four active RBI'ers in baseball - Roger Clemens, Julio Franco, John Franco and Benito Santiago. This could be the last season in which a player from RBI Baseball remains in baseball. A sad thought indeed...
The WATN page has been updated, along with a few coaching movements. I've made a bunch of updates here and there since the last entry, but as usual was too lazy to do the front page. But don't worry, the site is as active as ever, just head over to the forums and join in on the fun...
Discuss this update on the Dee-Nee Forums
---
[ Check Archives for previous updates to the webiste ]
---
[RBI Baseball Main]
[NES]
[Arcade]
[Drinking Game]
[FAQ]
[Media]
[Glossary]
[Profiles]