---
December 2001 Archives
---
December 22, 2001
A couple of user submitted updates - Cidney Hulett pointed out that Nolan Ryan can throw 102. I also discovered last week that Beringer can throw 102 as well, so the FAQ has been updated. Cidney also pointed out that Davey Lopes is just as fast (if not faster) than Coleman or Raines. I've added his name to that FAQ question.
George Tsigolis submitted a new user-created rule - you can only throw one slowball per inning. The FAQ has been updated...
Keep those emails coming people!
---
December 21, 2001
Feezy (aka Ryan Olbak) sent in two pictures of the RBI Mini-Pitcher Glitch. As a result, I converted all 3 pics I have into a slideshow. You can check them out here or through the RBI Media Page.
Finally added an archives section for old website updates. You can check them out here or on the "Archives" link on the left-side navigation bar, under Home. I removed all the November updates from the main RBI page and moved them to the archives.
---
December 20, 2001
Two new RBI Legend Profiles - Pat Sheridan and Jim Lindeman. Thanks to Lips for writing up the Sheridan Profile. We plan to add (at the very least) one profile for every non All-Stars team. The next two legends will most likely be Tim Tufuel and Terry Puhl...
In NES news, Lips took down Wizards and Warriors II. His next targets are the Mega Mans. Also forgot to mention that Potsie beat Solomon's Key earlier in the week. What a bitch that game was! All changes have been updated on The NES Victory Page
Added a few random nicknames for the NES players that didn't have one (Tony Jala-Pena, Eric "Burger" King etc). Check out this site for some great Berman-esque nicknames...
---
December 19, 2001
Finally found a decent font to use for the team names. So now all arcade teams have a semi-fancy title. Same goes for the NES AL and NL teams, who were sorely needing an update...
Removed some of the old updates from the main page. I think my plan will be to keep an archive of older records, which will make the main page a bit smaller. For now, I just deleted everything before November...
Also added the sweet title up above. That's a 48 point charter font converted to a jpg for no reason. A bit wasteful, but I'm not a big fan of the standard headers and I suck too much with The Gimp to make a "real" picture...

---
December 18, 2001
Added a new RBI Legend profile - Randy Bush
Potsie had what you would call a bad game last night against Jason. Gave up a triple to the pitcher, an inside-the-park home on a popup to second AND pulled off the impressive strikeout/bunt-strikeout in consecutive at bats. Two of those feats have been added to the Potsie Hall of Shame.
I am starting to come around with Minnesota, as I won three straight with them yesterday. Randy Bush hit seven dingers in the first two victories, thus the inspiration for the tribute. I did drop a 15-14 heartbreaker against Jason in Game 4, but the Twins have potential. I'm trying Davidson in the 6 spot and he blows too. Kent Hrbek is the best hitter on the team, followed by Bush...

---
December 17, 2001
Everyone's top 10 players are now up on the Rankings Page. Potsie and I also changed around some of our rankings at pinch hitter. I will add quicklinks at the top of the page in the next day or two...
Added a new rule to the drinking game (The Natural) - thanks to Corey Ensrude and David Martens over at Valpo University for the idea...
Added a new RBI Legend profile - Rob Wilfong

---
December 14, 2001
Nothing scarier than a person with too much free time... I've added a few bios of the unsung heroes of RBI. Many more will come, but for now we have tribute pages for Rick Burleson, Ruppert Jones, and Harry Spilman. You can also access these pages from the left-side navigation bar under "Legends". Should have ones for Pat Sheridan, Rob Wilfong, and Tom Brookens up shortly...
Added a new nickname for Bob Stanley (The Steamer) on the Red Sox Page. Thanks to Nick Lagenfeld for the update...

---
December 13, 2001
Potsie's top teams are now on the Rankings Page. As you can tell, the four of us mostly think alike...
I've talked to Strass and he thinks the Mini-Pitcher Glitch and the Strass are pretty much the same thing. I've kept both in the Glossary, but made the proper notes.
I played with Minnesota all day yesterday for the first time in awhile. I typically use them once every couple of months in serious play. Needless to say, I did not do very well, went 0-5 against Potsie. I remained competitive, but they just couldn't pull through for me. I have serious trouble in the #6 spot, where Gagne and Smalley both suck ass. I put Larkin at 8 and Bush (who is probably my best player) at 1. If anyone out there has tips for a winning Minnesota in straight pitch (DK?), drop me an email. I will keep trying...

---
December 11, 2001
Finally put Eddy's own picture on his Profile Page. He is no longer Screech Powers from Saved by the Bell, and is undoubtedly quite happy about that...
I also added the top teams to our Rankings Page. Potsie is a bit behind with his submission, but his views will be up there later today...
The Mini-Pitcher Glitch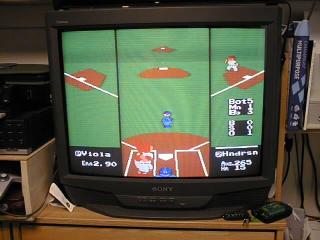 Thanks to Adam Agalloco for sending this excellent pic of the RBI Mini-Pitcher Glitch. If you want to check out the full-sized version (42k), click here. Also added this glitch to the Glossary Page. This seems very similar to the Strass glitch, I'll email Ryan and see if they are in fact the same. Stay tuned...

---
December 10, 2001
I finally found a good program for making thumbnails and the corresponding html to the larger picture. I was intially too lazy to do it manually, and that laziness paid off. So if you check out the Media Page, all the image galleries have thumbnails, slideshows, and captions. Very cool...

---
December 8, 2001
It's not RBI news, but oh well - Lips and I had our NCAA wrestling draft last night. To check out our teams, go here.
In other non-RBI related news, the four of us have decided to beat every Nintendo game in the house. The prelimary page is here. As I write this, Potsie is working on winning Solomon's Key. Jackal was beaten yesterday, along with Breakthru. I tried in vain to beat Pro Wrestling, but the Great Puma keeps kicking my ass. I will have my day though...

---
December 5, 2001
Fixed some of the broken links on the Arcade Page. I'll soon be replacing the arcade page with a team select pic simlar to the NES page. As a result, I've moved the NES vs Arcade info on the arcade page to the FAQ.
Our @Home connection is back, kudos to AT&T for getting us migrated so quickly. Compared to some of the nightmares DSL customers had to face switching over, this was relatively painless.

---
December 4, 2001
Cleaned up the FAQ quite a bit. There's now a Table of contents that link directly to the questions. This makes it much easier to find an individual question.

---
December 3, 2001
Had a few updates from the 29th on, but don't remember them all. I am one of many victims of the @Home situation, though it's hopefully going to be rectified for us AT&T folks. One thing I do know, dialup sucks...
Anyway, enough bitching (especially since I'm using my T1 here at work) about @Home. I've made a few of the player-created rules to be more broad-based and added another one. Check it out near the bottom of the FAQ.
Also added the Tom Brookens tribute site to the Links Page.

---
[ Check Archives for previous updates to the webiste ]
---
[RBI Baseball Main]
[NES]
[Arcade]
[Drinking Game]
[FAQ]
[Media]
[Glossary]
[Profiles]