---
February 2002 Archives
---
February 27, 2002
Did some much needed HTML cleanup on a whole bunch of pages. Made lots of little changes, most of which you will not notice. Biggest thing I did was eliminated the "open in a new window for no reason" behavior on a ton of links. The only stuff that should open in new window are off-site links and the stuff on the Media Page.
Added everyone's forum nickname to their profile. Match the face with the name, though most were rather obvious...
Updated my rankings to reflect the current landscape. Newcomers to the top ten are Kent Hrbek and Ellis Burks, while Chili Davis and Tony Armas fall out. Seriously, Chili Davis was a top 3 player in college, and now he's only the 3rd best hitter on his team. I also had Harry Spilman a bit too high. Don't get me wrong - he's still the man, but not the 3rd best hitter in the game. Only the 6th...
---
February 16, 2002
Finally removed the recently retired Cal Ripken, Tony Gwynn, and Mark McGwire from the list of active RBI'ers. Updated both the FAQ and Where are they now? pages...
Added some new socials to the Drinking Game, including their glossary definitions - Computer Assistance and Statue of Liberty. And since George Brett did not bat righty in real life, he has become A Glitch...
Took the January updates off the main page. Check The Archives for the older stuff...
---
February 12, 2002
Today has a definite Boston theme to it... First off, Greg Pines has enlightened us with his Red Sox Arcade Synopsis. And what you've all been waiting for -- Marc Sullivan, RBI Legend. This will most likely be the final installment of the RBI Legend series, though there are some rumblings for Dickie Thon and Danny Heep...
Finally added baseball-reference.com to the Links Page. It's easily the best site on the Internet for hunting down player statistics. Check it out...
Revised my California Synopsis, giving more detail and eliminating some outdated strategies. Also had to remove a few insults, since Lips doesn't really throw Rainbows anymore...
---
February 6, 2002
A belated Happy Birthday to the Good Brother, as he turned a spry 32 yesterday...
Greg and Aaron Pines, aka GPines and Burnzky on the forum, were kind enough to handle the rest of the Arcade Synopses for me. Their first installment is in, and it's a success - The Oakland Athletics
---
February 4, 2002
First off, let me say that the RBI Forums are going very well. We're over 100 posts (though half are mine) and got 23 people signed up. Be sure to spread the word! For those who haven't signed up, go here.
I've added two new terms to the glossary - Death and Family Friend. I also cleaned up the fucked up subsitution glitch, which is here. I'm thinking about making a separate Glitch page, since they are clutting up the glossary. If we get a few more glitches, that'll happen...
Two very cool updates for the Media Page - a picture of Greg and Adam Pines' RBI Championship Belt and a nice collection of RBI Baseball Roms. Thanks to Jason Goettl for the Roms...
---
February 3, 2002
The V-Man!!!!!!!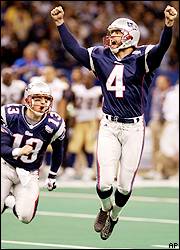 I know it has nothing to do with RBI, but we couldn't be happier with the outcome of The Super Bowl. Adam Vinatieri has been a family friend of Lipitz since day one. Nothing could be better than one of our own winning the Super Bowl. Great game Tom Brady, but Adam Vinatieri is the Super Bowl MVP...
I have a bunch of pending updates (that will get taken care of tomorrow), but for now Lipitz's Profile gets a much needed update to include Adam Vinatieri on his Family Friend list...
---
[RBI Baseball Main]
[NES]
[Arcade]
[Drinking Game]
[FAQ]
[Media]
[Glossary]
[Profiles]