---
July 2002 Archives
---
July 26, 2002
Added a couple new FAQ questions - Why did Tengen choose those 8 teams and What's the best way to throw out a basestealer. This will hopefully end the myth of "Guys like Tommy Herr can steal a base everytime"
Potsie gave up two dingers to Lee Mazzili in one inning last night. Though it isn't really that embarassing, I added it to the Potsie Hall of Shame anyway...
---
July 23, 2002
OK, I finally got a frequently asked question on my FAQ page - How do I play RBI on my computer? I will get a question going soon on how to use the RBI Manager, but take this for now...
---
July 22, 2002
The site & forums were down for most of Sunday due to a problem with our connection at work. I was out of town for the weekend and didn't notice it until 10-ish yesterday night. I really need to get that firewall up and running so this won't happen anymore...
My good friend Erik Schiecke from Boston stopped by and played his first RBI game in 15 years. This means he now has his own profile.
Getting a FAQ question going for how to use the RBI Manager and how to play RBI on your computer is the top priority. I'm a bit behind thanks to the vacation, but it should be up by tomorrow...
Move the June updates to the Archives
---
July 20, 2002
Happy Birthday... Mr. Potsie!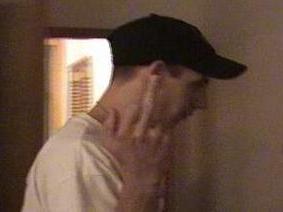 ---
July 18, 2002
Happy Birthday to RBI Legend Harry Spilman, who turns 48 today...
By now, we all know about the upcoming 32 Player RBI Tourney in Chicago, but now we get some word from the East & West Side! On the West coast, Dennis Kim has invited fellow RBI'ers to join his upcoming Hammer of the Gods Tourney on July 26th-28th in Cali. Check out the site and e-mail Dennis for more info. If you can't make it, don't sweat it too much because he holds a few tourneys per year. I warn you though, these guys are pros, they've been holding tourneys for much longer than we have...
On the East Coast, Kyle Cetnar and his band of youngsters from Amsterdam, New York are planning a Huge 32+ Player tourney on August 11th, open to all. Check out the site and sign up, as there will be plenty of comp. I have also put the info on my Tourney Page and the Links Page in case you miss out...
On the non-tournament front, Potsie and I have slightly revised our rankings. Notable changes include Potsie's demotion of the Mets to the worst team in the game and my decision to take Randy Bush off the top 5 pinch hitters...
---
July 17, 2002
The final NES Team has been updated with the RBI Manager stats - the National League. On paper, the All-Star teams don't really look all that tough, but their starting pitching makes more of a difference than their hitting. Fernando has more curve than Krukow, that is just nasty...
Potsie and I had a couple of good games tonight. I broke the run record for San Fran with 26, in a highly contested victory over Boston. All in all, we broke 4-5 Records tonight, so check them out...
---
July 15, 2002
Finished up adding the RBI Manager stats to all the NES Teams but the National League. My cable modem is lagging big time, so I'll get that one done tomorrow or Wednesday. But there are plenty of stats to keep you busy until then....
---
July 14, 2002
Began adding all the RBI Manager stats to the NES Teams. A bit time-consuming, as I had to reconstruct all my tables, but I have Boston, California, Detroit and Houston up and running. This is why people don't use static HTML for all their pages, I need to start PHP'izing this site. It will happen sometime soon, but don't hold your breath...
All the May updates are finally off the main page, check the Archives for that...
---
July 11, 2002
I have added a few FAQ questions regarding the hitter ratings in the RBI Manager. Start with What is RBI Manager? and work down from there. The Boston Page now has all the hitter & pitcher ratings, as well as links to their respective FAQ questions (Click on the category to get there). This is the template I will use for all the teams, and hope to get them finished up by next week....
Congrats to Cael Sanderson for winning an ESPY for best male college athlete. He couldn't beat out Tiger Woods for the overall title, but the nomination itself is an honor. Any press wrestling gets is a very good thing. Check out this pic of Cael with his ESPY.
Added a new glossary term - the Shimmy. In a nutshell, the defenders have the ability to slow down high fly balls by running in. It seems hard to believe (I myself doubted this when someone emailed me about it), but it actually works! Try it out...
---
July 10, 2002
Another RBI Birthday - Andre Dawson turns 48 today.
In his first RBI game since his birthday, Terry Puhl goes 5-6 with 3 homers for me against Potsie. He was 5-5 going into his last AB but Potsie purposely put in a lefty (Dayley) to make sure he didn't go 6-6. In that game I broke the record Houston run record with 19. The Records Page has been updated....
---
July 8, 2002
Two RBI birthdays today - Astros teammates Alan Ashby and Terry Puhl turn 51 & 46 respectively. To celebrate their birthday, go crazy and let Ashby play a whole game. After this week, you can go back to subbing him for Puhl...
Got some questions regarding the RBI Manager, so I'll be sure to add an installation question to the FAQ tomorrow. Was supposed to do it today, but you know the drill...
---
July 6, 2002
Yesterday was a pretty rough day in the world of RBI - first off, Ted Williams passed away. For those who have the arcade version, you know he packed quite a wallop for the BoSox. RBI or otherwise, it is a great loss for baseball. Ted has been my brother's favorite player for as long as I can remember. I also updated Nick's Profile, putting Williams as his favorite RBI Aracde player. He destroys me with him....
The second loss for RBI was the firing of Don Baylor (aka DB Sweeny) as manager of the Chicago Cubs. Though most of us here in Chicago have been waiting awhile for this, you never like to see an RBI Legend leave the game. The Where are they now? page has been updated...
I have been playing with RBI Manager quite a bit lately. Using RBI Manager, you can get the authentic power/speed/contact ratings for the players. None of this unrealistic A/B/C crap from the manual, you get the real numbers. I plan to list all the players real abilities on their team pages shortly. For now, check out the FAQ Question and the preliminary statistics for California...
---
[ Check Archives for previous updates to the webiste ]
---
[RBI Baseball Main]
[NES]
[Arcade]
[Drinking Game]
[FAQ]
[Media]
[Glossary]
[Profiles]