Home
Archives
Banned List
NES Victory
Reviews
Forums
Search
RBI Baseball
Drinking Game
Hall Of Shame
Database/Wiki
Glossary
Rankings
FAQ
Forums
Media
Watn?
Records
Tourneys
Misc
ROMs
Links
NES
Boston
California
Detroit
Houston
Minnesota
New York
San Francisco
St. Louis
AL All-Star
NL All-Star
Arcade
Astros
Athletics
Braves
Cardinals
Cubs
Dodgers
Giants
Reds
Red Sox
Yankees

The Players
Gantry
Lips
Potsie
Sperling

RBI Legends
R. Burleson
R. Bush
R. Jones
J. Lindeman
T. Puhl
P. Sheridan
H. Spilman
M. Sullivan
T. Teufel
R. Wilfong

The Friends
Eddy
Jae
Jason
Nick
Good Brother

Wrestling
Lineup 2003
Lineup 2002
Lineup 2001
Lineup 2000
Nicknames
Links



---
March 2002 Archives
---
March 27, 2002
Finally added a profile for our good friend Jason Brand. A little short on details for now, but I'll be sure to fill in some of the blanks.
Added two questions to the FAQ - What happens if the Nintendo resets during the game? and What are those numbers above the scoreboard for?
Upgraded the processor on the webserver that runs dee-nee.com - went from a 266mhz Pentium 2 to a 600mhz Pentium 3. I doubt you'll notice the difference on the main site, but the forums are noticably faster.
---
March 25, 2002
Believe it or not, an actual RBI update. My apologies for being so sluggish with updates, the forums have been occupying all of my RBI-related time. First off my Rob Wilfong autographed Smokey the Bear card came in. Nothing beats EBay for obtaining RBI-related crap at a low price. Per usual with all pictures, sounds and videos on the site, you can find it on the Media Page.
Added a slew of terms to the glossary - Paul Bunyan, Electric Boogaloo, Stroke, Wallzie, and Spongebob.
---
March 24, 2002
The Best Ever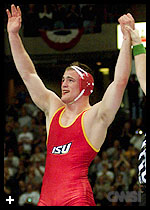 We're back from our trip to New York City and Albany, and it was quite the adventure. It was a pleasure to witness Cael Sanderson become the first 4-Time undefeated NCAA Wrestling Champion. Those of you who don't follow wrestling might not appreciate it, but this is an unbelievable feat. He finishes his career with a 159-0 record, one of the greatest accomplishments in the history of college athletics. It has never happened before (and wrestling has been around for a much longer time than most NCAA sports) and might never happen again. The dee-nee.com family salutes you Cael...
On a more somber note, Lipitz takes the NCAA fantasy championship from me for the third straight year 5-3. It all came down to the HWT match, where my wrestler (Steve Mocco of Iowa) and Lipitz's wrestler (Tommy Rowlands) headed into double-overtime. Mocco wins wins the coin flips and chooses down - if he can escape from Rowlands (which the bottom man does 80% of the time), I pull off the 4-4 tie. But Rowlands rides "The Bull" out for the Lipitz victory. From this day forward, I will refer to Tommy Rowlands as The Matador...
---
March 17, 2002
Gantry and I (Lips) will be out for this entire week -- taking a trip to NY. Just an FYI for the lack of updates / posts to the site.
We'll be back Sunday, March 24th. We're less than a month away from our fourth annual RBI Championship. Who will be the first to don the new championship belt?
Dee-Nee!!
---
[RBI Baseball Main]
[NES]
[Arcade]
[Drinking Game]
[FAQ]
[Media]
[Glossary]
[Profiles]