---
October 2002 Archives
---
October 29, 2002
Did a little fall cleaning of the site today, finding random odds and ends to tie up. My initial goal was to find five new sites for the Links page, and I succeeded. First off are interviews with former Tengen Programmers Bill Hindorff and Ed Logg. Next is the NES Files RBI Baseball Page, which includes a PDF of the RBI Manual. Finally, we have Remembering RBI Baseball by Krikor Dagilan, a good retrospective from an old player. Pretty shocked to find so many good links, but I'll certainly take it...
Next off was the FAQ. I cleaned up a whole bunch of questions and added a new one - What's the point of Watch Game? The biggest cleanup involved the history of RBI, start here and read the next few questions. Afterwards, you will hopefully have a better idea of RBI's roots...
Most of the other updates were minor - added the 1st Base Tag Glitch, changed the amount of drinks for a groundout to right field, made Glenn Davis a righty on the Houston Page, etc...
---
October 28, 2002
Donnie Moore's curse is over!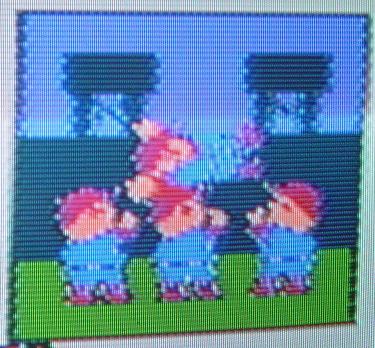 Congrats to the California Angels for finally coming through in the postseason. After two well publicized stumbles in 1982 & 1986, Cali conquers their demon and wins the World Series. Donnie Moore can finally rest in peace....
---
October 24, 2002
I have finally put in the FAQ my most frequently asked question - How to I play the arcade version of RBI on my computer? Give it a whirl and let me know if it doesn't work for you. I really should have posted this one earlier, my apologies. Now everyone can play the arcade version!
NotURMasButArmas from the forums has written a humourous RBI Baseball Song. In fact, check out the rest of his site, chock full o' goodies. We have very simliar tastes in facial hair and headgear...
Want to see what Lips and Potsie look like as 8-year-olds? Sure you do... Behold - Before They Were Dee-Nee!!!
---
October 23, 2002
If you kids get a chance, be sure and check out Flogging Molly on tour. It was one of the finest shows I've ever attended, even though I missed the first 2+ bands. Andrew WK was a nice touch as well, he puts on a good set. My only complaint were the $6.50 Guinnesses at the Vic - a bit pricey and wasn't even on tap. Oh well, they did the job...
Moved my scant July and August updates to the Archives Page....
---
October 15, 2002
I just got 27 consecutive Tetrises starting at level 9 on NES Tetris. Since I can't remember what my previous best was, this is my new record. That is all...
---
October 14, 2002
Donnie Moore's curse is over, the Angels are in the World Series! They took the early series lead and finished off the Twins. Well done boys, use the power of Potatoes in the Word Series...
I have finally added the custom RBI Roms that Ray (aka bibleboy on the forums) sent me, you can find them on the ROMs Page. He did one ROM for the 2003 season and one All-Time Great ROM. Enjoy and let me know if you have any trouble with them....
---
October 10, 2002
I haven't been following baseball at all this year, but a few people pointed out that this years LCS includes all RBI Teams - Minnesota, Anaheim (Ca), San Francisco and St. Louis. RBI Legend Benito Santiago was the hero of NLCS game 1, going 3-5 with a dinger. That's one more dinger than he's ever hit for me in RBI, but it's good to see Benito show the kids how it's done...
One of our newest forum members, sucka free, posted a nice little list of all the RBI'ers who had their jerseys retired. It's the perfect tidbit for the Miscellany Page. Thanks again sucka...
RBI Arcade Birthday - Gene Tenace turns 56 today...
---
October 9, 2002
Well, Potsie and I finally played a couple games last weekend. Good to get back in the thick of things, but I still don't forsee too much RBI action in the near future. Good to see you guys are keeping the Forums busy...
Speaking of keeping busy, Greg Pines has added another section to his RBI Page - an RBI Nicknames Page. Quite a few doozies on there and we added Chris "Britney Spiers" to the San Fran Page. Also rather partial to "Blow Job Jessie" Orosco...
Congrats to RBI Legend Alan Trammell for being named manager of the legendary Detroit Tigers. If he can get Gibby and Darrell Evans back, then look for them to win the pennant in 2003! The Where are they now page has been updated...
RBI Birthday - Brian "Bread" Downing turned 52 today. Or as Greg likes to call him, Big Dick Downing. I'll stick with Bread...
---
October 1, 2002
The dee-nee.com drought continues... I'm fairly certain we didn't play a single game of RBI in September. Pretty sad state of affairs right now. The only reason I've taken time out to do an update is that my car is in the shop and I'm waiting for Lips to pick me up....
As the regular season ends, RBI loses one more player to retirement - Tim "Rock" Raines. The Where Are They Now? page has been updated, and we're down to 7 active RBI'ers...
Quick link change - the RBI Manager has a new and improved help forum up and running. Go there if you are having problems getting it RBI Manager to work. Also updated the Links Page...
A late RBI birthday - Richie "Go Go" Gedman turned 43 on September 26th. Seems like he would be a bit older...
---
[ Check Archives for previous updates to the webiste ]
---
[RBI Baseball Main]
[NES]
[Arcade]
[Drinking Game]
[FAQ]
[Media]
[Glossary]
[Profiles]