Home
Archives
Banned List
NES Victory
Reviews
Forums
Search
RBI Baseball
Drinking Game
Hall Of Shame
Database/Wiki
Glossary
Rankings
FAQ
Forums
Media
Watn?
Records
Tourneys
Misc
ROMs
Links
NES
Boston
California
Detroit
Houston
Minnesota
New York
San Francisco
St. Louis
AL All-Star
NL All-Star
Arcade
Astros
Athletics
Braves
Cardinals
Cubs
Dodgers
Giants
Reds
Red Sox
Yankees

The Players
Gantry
Lips
Potsie
Sperling

RBI Legends
R. Burleson
R. Bush
R. Jones
J. Lindeman
T. Puhl
P. Sheridan
H. Spilman
M. Sullivan
T. Teufel
R. Wilfong

The Friends
Eddy
Jae
Jason
Nick
Good Brother

Wrestling
Lineup 2003
Lineup 2002
Lineup 2001
Lineup 2000
Nicknames
Links




Rick Burleson, RBI Legend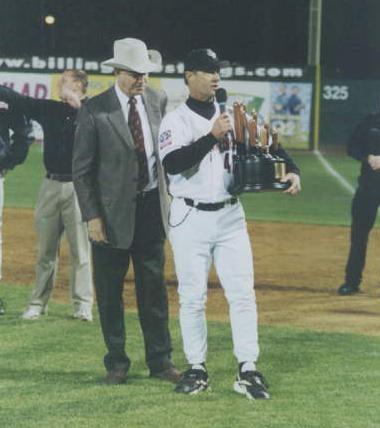 Intro
What can be said about Rick Burleson that hasn't already been written? Well, basically anything since nobody writes about Burleson. I figure is was right time that Burly got his due. Here's some nuggets of info regarding RBI Great, Rick Burleson:
The Facts
Born April 29th 1951
Nickname was Rooster (we prefer Burly)
Played in the Big Leagues from 1974-1987
Four-time All-Star
Gold Glove winner in 1979
Was the SS for the 1975 Boston Red Sox, who lost one of the greatest World Series of all-time
Was stranded on 3rd at the end of the 1978 Divisional Playoff between Boston and New York, the game of the Bucky Dent homer.
To Learn More
Conclusion
Outside of being on the wrong side of two of the most famous events in Major League Baseball history, I'd say Burleson has had quite the career. As an RBI player, he plays a pivotal role on the bench (though he typically starts in the eight spot for me) of the great California Angels team. In the arcade version, Burleson is the leadoff man for the all-time Boston Red Sox team.


---
[RBI Baseball Main]
[NES]
[Arcade]
[Drinking Game]
[FAQ]
[Media]
[Glossary]
[Profiles]