Home
Archives
Banned List
NES Victory
Reviews
Forums
Search
RBI Baseball
Drinking Game
Hall Of Shame
Database/Wiki
Glossary
Rankings
FAQ
Forums
Media
Watn?
Records
Tourneys
Misc
ROMs
Links
NES
Boston
California
Detroit
Houston
Minnesota
New York
San Francisco
St. Louis
AL All-Star
NL All-Star
Arcade
Astros
Athletics
Braves
Cardinals
Cubs
Dodgers
Giants
Reds
Red Sox
Yankees

The Players
Gantry
Lips
Potsie
Sperling

RBI Legends
R. Burleson
R. Bush
R. Jones
J. Lindeman
T. Puhl
P. Sheridan
H. Spilman
M. Sullivan
T. Teufel
R. Wilfong

The Friends
Eddy
Jae
Jason
Nick
Good Brother

Wrestling
Lineup 2003
Lineup 2002
Lineup 2001
Lineup 2000
Nicknames
Links




Jim Lindeman, RBI Legend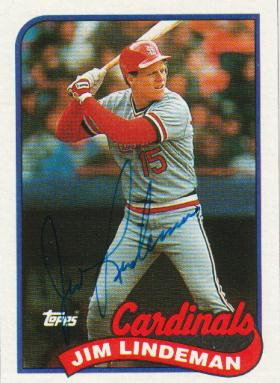 Intro
Quick question - what's the greatest thing to come out of Des Plaines, Illinois? If you said that original McDonalds franchise or that new White Castle on River Road, you are way off. It's the one and only Jim Lindeman, RBI Legend:
The Facts
Born January 10th, 1962
Played his college ball at Bradley University in Illinois
Played in the Big Leagues from 1986-1994
Hit a Home Run in the 1987 NLCS
Faced off against former college teammate Kirby Puckett in the 1987 World Series
From the great town of Des Plaines, Illinois
Was a "Roving Hitting Instructor" for the White Sox Training Centers
Currently varsity coach of the Rolling Meadows High School Baseball Team
To Learn More
Conclusion
Jim Lindeman is the man, pure and simple. His play on the field of RBI is nothing short of legendary. Most rookies to the game scoff when big Jim takes the field, but us veterans know better. After Jack Clack, he is the most powerful hitter on the Cardinals roster. Put him in at the seven spot and watch the homers fly...


---
[RBI Baseball Main]
[NES]
[Arcade]
[Drinking Game]
[FAQ]
[Media]
[Glossary]
[Profiles]