Home
Archives
Banned List
NES Victory
Reviews
Forums
Search
RBI Baseball
Drinking Game
Hall Of Shame
Database/Wiki
Glossary
Rankings
FAQ
Forums
Media
Watn?
Records
Tourneys
Misc
ROMs
Links
NES
Boston
California
Detroit
Houston
Minnesota
New York
San Francisco
St. Louis
AL All-Star
NL All-Star
Arcade
Astros
Athletics
Braves
Cardinals
Cubs
Dodgers
Giants
Reds
Red Sox
Yankees

The Players
Gantry
Lips
Potsie
Sperling

RBI Legends
R. Burleson
R. Bush
R. Jones
J. Lindeman
T. Puhl
P. Sheridan
H. Spilman
M. Sullivan
T. Teufel
R. Wilfong

The Friends
Eddy
Jae
Jason
Nick
Good Brother

Wrestling
Lineup 2003
Lineup 2002
Lineup 2001
Lineup 2000
Nicknames
Links




Tim Teufel, RBI Legend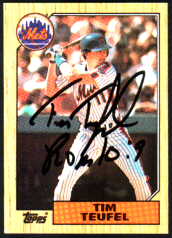 Intro
Tim Teufel is another RBI legend with less-than-legendary MLB stats. But this just shows you how flawed the field of statistics really is. Who can provide a convincing argument that Tim Teufel was a bad player? I didn't think so...
The Facts
Born July 7th, 1958
Played in the Big Leagues from 1983-1993
Traded to the San Diego Padres for Garry Templeton on May 31, 1991.
Hit a home run in Game 4 of the 1986 World Series
Beat the shit out of Rob Dibble after he beaned him in 1989
Drove ladies crazy with his patented "Teufel Shuffle"
Currently goes around and talks about how great Jesus is
To Learn More
Conclusion
Tim Teufel is a tremendous performer in RBI Baseball. He adds some much-needed pop to the eight spot for the Mets. Timmy-Two-Step is quite possibly the best right-handed pinch hitter in RBI. Step aside Jesus, let Tim Teufel come to bat!


---
[RBI Baseball Main]
[NES]
[Arcade]
[Drinking Game]
[FAQ]
[Media]
[Glossary]
[Profiles]