Home
Archives
Banned List
NES Victory
Reviews
Forums
Search
RBI Baseball
Drinking Game
Hall Of Shame
Database/Wiki
Glossary
Rankings
FAQ
Forums
Media
Watn?
Records
Tourneys
Misc
ROMs
Links
NES
Boston
California
Detroit
Houston
Minnesota
New York
San Francisco
St. Louis
AL All-Star
NL All-Star
Arcade
Astros
Athletics
Braves
Cardinals
Cubs
Dodgers
Giants
Reds
Red Sox
Yankees

The Players
Gantry
Lips
Potsie
Sperling

RBI Legends
R. Burleson
R. Bush
R. Jones
J. Lindeman
T. Puhl
P. Sheridan
H. Spilman
M. Sullivan
T. Teufel
R. Wilfong

The Friends
Eddy
Jae
Jason
Nick
Good Brother

Wrestling
Lineup 2003
Lineup 2002
Lineup 2001
Lineup 2000
Nicknames
Links




Pat Sheridan, RBI Legend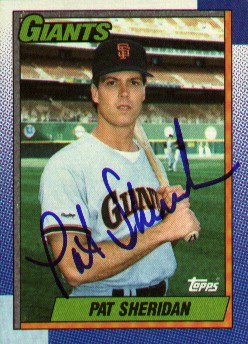 Intro
Pat Sheridan really didn't do much in his career of Baseball. Actually, for an outfielder and a designated hitter, his stats were really pathetic. But one thing is for sure, he's a stud in the realm of RBI Baseball:
The Facts
Born December 4th, 1957
Played in the Big Leagues from 1981-1989, 1991
Never hit .300, 20 homers, or 60 RBIs in a single season.
Was a member of the Kansas City Royals team that won the World Series in 1985.
Had a game-winning two-run homer in the bottom of the 8th inning in Game 3 of the 1987 ALCS.
Earned a whopping salary of $343K in 1987, second worst on the Detroit RBI squad, with Nokes cleaning up at $68K.
Got inducted into the Eastern Michigan University Athletic Hall of Fame in the fall of 1998.
To Learn More
Conclusion
Pat Sheridan didn't personally accomplish much on the playing field in MLB, but in RBI Baseball, he's a legend. Once used only to spite a certain opponent (Potsie), Sheridan has blossomed into an all-out stud, homering in any given game and outdoing everything he could have wished for in MLB.


---
[RBI Baseball Main]
[NES]
[Arcade]
[Drinking Game]
[FAQ]
[Media]
[Glossary]
[Profiles]