Home
Archives
Banned List
NES Victory
Reviews
Forums
Search
RBI Baseball
Drinking Game
Hall Of Shame
Database/Wiki
Glossary
Rankings
FAQ
Forums
Media
Watn?
Records
Tourneys
Misc
ROMs
Links
NES
Boston
California
Detroit
Houston
Minnesota
New York
San Francisco
St. Louis
AL All-Star
NL All-Star
Arcade
Astros
Athletics
Braves
Cardinals
Cubs
Dodgers
Giants
Reds
Red Sox
Yankees

The Players
Gantry
Lips
Potsie
Sperling

RBI Legends
R. Burleson
R. Bush
R. Jones
J. Lindeman
T. Puhl
P. Sheridan
H. Spilman
M. Sullivan
T. Teufel
R. Wilfong

The Friends
Eddy
Jae
Jason
Nick
Good Brother

Wrestling
Lineup 2003
Lineup 2002
Lineup 2001
Lineup 2000
Nicknames
Links




Marc Sullivan, RBI Legend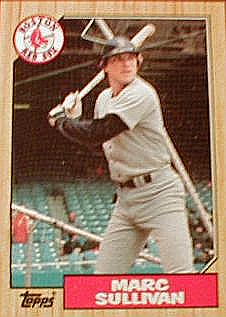 Intro
The name Marc Sullivan strikes fear into the heart of every RBI'er playing against the Boston Red Sox. You know that at some point late in the game, Sullivan will be batting for the pitcher. When he does, a large percentage of your pitches will end of over the fence. He is the Rusty Staub (or Manny Mota if you prefer) of RBI Baseball - a one AB (and only one AB) wonder. Here's the lowdown:
The Facts
Born January 28th, 1958
Played in the Big Leagues from 1982-1997
Batted an incredible .417 in his first two seasons (12 ABs)
Was on the Red Sox World Series team of 1986, but apparently didn't get to play
His father Haywood Sullivan was a Major League catcher and used to own the Red Sox
Currently a licensed Real Estate Broker
To Learn More
Conclusion
Marc Sullivan is a terrifying pitcher sub, one of the toughest 9th inning outs in the game. He is super clutch and will get you that big home run when you need it. He does have some downsides, however: (1) Never, I repeat Never try to use Sullivan for an entire game, it just doesn't work (2) Only use Sullivan when you absolutely need him; he's a clutch hitter but is worthless for padding a lead or getting a bases-empty single. If you learn to utilize Marc Sullivan's skills and steer clear of his limitations, you will have a wonderful relationship.


---
[RBI Baseball Main]
[NES]
[Arcade]
[Drinking Game]
[FAQ]
[Media]
[Glossary]
[Profiles]