Home
Archives
Banned List
NES Victory
Reviews
Forums
Search
RBI Baseball
Drinking Game
Hall Of Shame
Database/Wiki
Glossary
Rankings
FAQ
Forums
Media
Watn?
Records
Tourneys
Misc
ROMs
Links
NES
Boston
California
Detroit
Houston
Minnesota
New York
San Francisco
St. Louis
AL All-Star
NL All-Star
Arcade
Astros
Athletics
Braves
Cardinals
Cubs
Dodgers
Giants
Reds
Red Sox
Yankees

The Players
Gantry
Lips
Potsie
Sperling

RBI Legends
R. Burleson
R. Bush
R. Jones
J. Lindeman
T. Puhl
P. Sheridan
H. Spilman
M. Sullivan
T. Teufel
R. Wilfong

The Friends
Eddy
Jae
Jason
Nick
Good Brother

Wrestling
Lineup 2003
Lineup 2002
Lineup 2001
Lineup 2000
Nicknames
Links




Harry Spilman, RBI Legend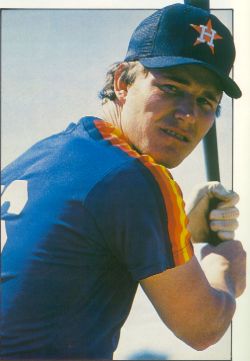 Intro
Harry Spilman wasn't known as the best hitter or the best fielder or the best baserunner. That wasn't Harry's style... He preferred to add a supporting role, and support he did. The figures never lie:
The Facts
Born July 18th 1954
His real first name is William, Harry is his middle name
Is ambidextrous - bats lefty, throws righty
Played in the Big Leagues from 1978-1989
Hit a Home Run in game 3 of the 1987 NLCS vs the Cardinals
Currently hitting coach of the Houston Astros
To Learn More
Conclusion
I'll admit that Harry Spilman isn't one of the first names that pop in your head when you consider the all-time greats. But for anyone who has used Harry in RBI, his name will always comes to mind. He is the best pinch-hitter in RBI Baseball (though some may disagree with me on this), and that is one impressive mark to leave. Who cares if you only hit 18 homers in 12 years, you're in the RBI Elite!!


---
[RBI Baseball Main]
[NES]
[Arcade]
[Drinking Game]
[FAQ]
[Media]
[Glossary]
[Profiles]