Home
Archives
Banned List
NES Victory
Reviews
Forums
Search
RBI Baseball
Drinking Game
Hall Of Shame
Database/Wiki
Glossary
Rankings
FAQ
Forums
Media
Watn?
Records
Tourneys
Misc
ROMs
Links
NES
Boston
California
Detroit
Houston
Minnesota
New York
San Francisco
St. Louis
AL All-Star
NL All-Star
Arcade
Astros
Athletics
Braves
Cardinals
Cubs
Dodgers
Giants
Reds
Red Sox
Yankees

The Players
Gantry
Lips
Potsie
Sperling

RBI Legends
R. Burleson
R. Bush
R. Jones
J. Lindeman
T. Puhl
P. Sheridan
H. Spilman
M. Sullivan
T. Teufel
R. Wilfong

The Friends
Eddy
Jae
Jason
Nick
Good Brother

Wrestling
Lineup 2003
Lineup 2002
Lineup 2001
Lineup 2000
Nicknames
Links




Randy Bush, RBI Legend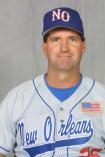 Intro
Randy Bush and the Minnesota Twins go hand-in-hand. Whenever you had a good Twins team, Randy Bush was there. He wasn't wowing you with those overrated "statistics" or "abilities", but by playing game-in and game-out:
The Facts
Born October 5th, 1958
Real name is Robert Randall Bush
Played in the Big Leagues from 1982-1992
9th inning single broke up Jim Clancy's perfect game in 1989
Tied Minnesota team record with 8 RBIs in one game in 1989
Led AL in pinch hits in 1991 with 13
Member of two World Championship Minnesota Twins teams (1987 & 1991)
Manager of The University of New Orleans baseball team (2000-2003)
To Learn More
Conclusion
Randy Bush had a decent career, and that success carried over into the dugout and (more importantly) RBI Baseball. He has tremendous power and should replace Dan Gladden at the leadoff spot. Bush can certainly hit the dingers and has good speed to beat out those quick throws to first from right. No matter where he goes, Randy Bush reeks of quality...


---
[RBI Baseball Main]
[NES]
[Arcade]
[Drinking Game]
[FAQ]
[Media]
[Glossary]
[Profiles]