Home
Archives
Banned List
NES Victory
Reviews
Forums
Search
RBI Baseball
Drinking Game
Hall Of Shame
Database/Wiki
Glossary
Rankings
FAQ
Forums
Media
Watn?
Records
Tourneys
Misc
ROMs
Links
NES
Boston
California
Detroit
Houston
Minnesota
New York
San Francisco
St. Louis
AL All-Star
NL All-Star
Arcade
Astros
Athletics
Braves
Cardinals
Cubs
Dodgers
Giants
Reds
Red Sox
Yankees

The Players
Gantry
Lips
Potsie
Sperling

RBI Legends
R. Burleson
R. Bush
R. Jones
J. Lindeman
T. Puhl
P. Sheridan
H. Spilman
M. Sullivan
T. Teufel
R. Wilfong

The Friends
Eddy
Jae
Jason
Nick
Good Brother

Wrestling
Lineup 2003
Lineup 2002
Lineup 2001
Lineup 2000
Nicknames
Links




Ruppert Jones, RBI Legend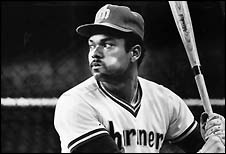 Intro
Ruppert Jones - the man, the myth, the legend. This is a man nobody knows, yet he almost singlehandedly started a franchise. Here we go:
The Facts
Born March 12, 1957
Played in the Big Leagues from 1976-1987
Nickname was "ROOP", we prefer Rupperto
Was the first player taken by Seattle in their expansion draft
Was the first All-Star in the history of the Seattle Mariners franchise
All-Star in 1977 & 1982
A member of the legendary 1984 Detroit Tigers
Netted 3 hits for California in the 1986 ALCS
To Learn More
Conclusion
This man is a legend, plain and simple. On the real field he was both the first Seattle Mariner and the first Seattle Mariner All-Star. On the the fictional field of RBI he is one of the 10 best players in the game. In the game of life he is a devoted father and husband. No matter which arena you view him in, Ruppert Jones is a winner.


---
[RBI Baseball Main]
[NES]
[Arcade]
[Drinking Game]
[FAQ]
[Media]
[Glossary]
[Profiles]