Home
Archives
Banned List
NES Victory
Reviews
Forums
Search
RBI Baseball
Drinking Game
Hall Of Shame
Database/Wiki
Glossary
Rankings
FAQ
Forums
Media
Watn?
Records
Tourneys
Misc
ROMs
Links
NES
Boston
California
Detroit
Houston
Minnesota
New York
San Francisco
St. Louis
AL All-Star
NL All-Star
Arcade
Astros
Athletics
Braves
Cardinals
Cubs
Dodgers
Giants
Reds
Red Sox
Yankees

The Players
Gantry
Lips
Potsie
Sperling

RBI Legends
R. Burleson
R. Bush
R. Jones
J. Lindeman
T. Puhl
P. Sheridan
H. Spilman
M. Sullivan
T. Teufel
R. Wilfong

The Friends
Eddy
Jae
Jason
Nick
Good Brother

Wrestling
Lineup 2003
Lineup 2002
Lineup 2001
Lineup 2000
Nicknames
Links




Terry Puhl, RBI Legend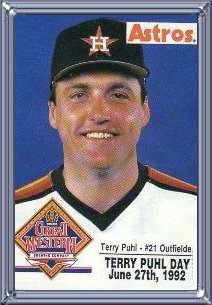 Intro
Outside of Lipitz's mom, Terry Puhl is our favorite Canadian. From his roots in Mellville, Saskatchewan, Puhl blossomed into a rock for the competitive Houston Astros teams in the 1980s. He batted well, fielded well, and ran well - a model of consistency and fundamentals...
The Facts
Born July 8, 1956
Played in the Big Leagues from 1977-1991
Made the All-Star team in 1978
Has the higest fielding % for an outfielder in baseball history (.993)
Batted an oustanding .526 in the 1980 NLCS
Batted over .300 in three seasons
Has the most career hits and games ever by a Canadian
June 27th, 1992 was Terry Puhl Day
Elected to the Canadian Baseball Hall of Fame in 1995
To Learn More
Conclusion
In RBI, Terry Puhl is one of the few bright spots on an awful Houston team. He has tremendous power (especially for Houston) and should be subbed in at the leadoff spot. Crack open a Labatts and enjoy the production from this fine Canadian!!


---
[RBI Baseball Main]
[NES]
[Arcade]
[Drinking Game]
[FAQ]
[Media]
[Glossary]
[Profiles]