Home
Archives
Banned List
NES Victory
Reviews
Forums
Search
RBI Baseball
Drinking Game
Hall Of Shame
Database/Wiki
Glossary
Rankings
FAQ
Forums
Media
Watn?
Records
Tourneys
Misc
ROMs
Links
NES
Boston
California
Detroit
Houston
Minnesota
New York
San Francisco
St. Louis
AL All-Star
NL All-Star
Arcade
Astros
Athletics
Braves
Cardinals
Cubs
Dodgers
Giants
Reds
Red Sox
Yankees

The Players
Gantry
Lips
Potsie
Sperling

RBI Legends
R. Burleson
R. Bush
R. Jones
J. Lindeman
T. Puhl
P. Sheridan
H. Spilman
M. Sullivan
T. Teufel
R. Wilfong

The Friends
Eddy
Jae
Jason
Nick
Good Brother

Wrestling
Lineup 2003
Lineup 2002
Lineup 2001
Lineup 2000
Nicknames
Links




Rob Wilfong, RBI Legend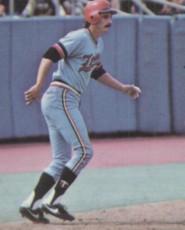 Intro
Rob Wilfong is probably best known for one of two things. The first is his tremendous mustache, while the second was being on the bad side of the trade that brought Tom Brunansky to Minnesota. While this may not be the most desirable legacy to leave, we here at dee-nee.com are trying to change that. We prefer that Rob Wilfong be known for his play in RBI Baseball. Here's a quick bio:
The Facts
Born September 1st, 1953
Played in the Big Leagues from 1977-1987
Was traded with Doug Corbett for Tom Brunasky in 1982
Had a game-tying RBI single in the bottom of the 9th of the 1986 ALCS.
Spent some time as a big-league scout for the Detroit Tigers
Gantry once had a dream that he went to college with Rob's mythical son (Rob Jr.)
To Learn More
Conclusion
Rob Wilfong was one of the first big-time, crap-stat pinch hitters in RBI Baseball. You never forget that first time you subbed Gary Pettis for Wilfong, the Angels became a whole new team. Though he may not have put the big numbers in real-life, in RBI Roberto always comes through. And that's what truly matters...


---
[RBI Baseball Main]
[NES]
[Arcade]
[Drinking Game]
[FAQ]
[Media]
[Glossary]
[Profiles]